ATV Safety
ATV accident statistics have increased dramatically over the last few years. Improper use can result in fatal accidents. Using an ATV during hunting to place tree stands, retrieve game, and get to your destination can make the hunting experience a more enjoyable one. To be safe, follow proper usage guidelines: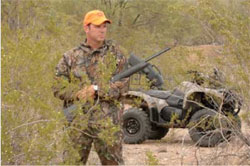 Take a hands on safety education course. Visit www.ATVSafety.org or call 800-887-2887.
Read the owner's manual. ATV handling varies from one ATV to the next. Learn the recommended stopping techniques, how the clutch works, how to control the throttle, whether yours has a reverse gear, 2 or 4 wheel drive, etc.
Take a test run in a large, flat open area free of obstacles and debris. Test the handling of your ATV in varying weather conditions.
Inspect your vehicle before leaving on a trip. Always carry tools and supplies in case your ATV breaks down.
Maintain the recommended tire pressure. Use a low pressure gauge; an automotive gauge will not be accurate on an ATV. Verify that the tire on the left is inflated to the same level as the corresponding tire on the right. Steering and handling could be affected and damage to the vehicle or an accident could result if tires are not properly inflated.
Always wear a helmet, eye protection, long sleeved shirt and pants, gloves, boots, and hunter orange.
If you have a hunting lease, find out if your hunting lease allows ATV usage. Oftentimes it is allowed only for game retrieval.
When retrieving game, take the trail that gets you as close to the animal as possible. Park the ATV, then walk the rest of the way.
Know the laws in your area for ATV usage and game retrieval. If a firearm is permitted, carry it unloaded and secured in a case.
Stay on designated ATV roads and trails. Know that ATV's can be difficult to control on paved roads. Driving on a paved surface may seriously affect handling and control. Going off road can destroy vegetation and crops and lead to stream degradation. Off road could also be illegal, depending upon the area in which you are hunting.
Is the ATV designed for 1 or 2 people? The majority of ATV's are designed to carry one person. Passengers can make it difficult to control an ATV.
Do not permit children to drive or ride. One-third of ATV related injuries and deaths are children either riding with an adult or driving an adult ATV.
Avoid parking on an incline.
Don't hunt from the road. Drive the ATV slowly out of respect for other hunters and to reduce noise.
Leave all gates the way you found them.
Never cross private property without permission.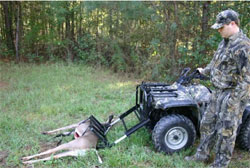 Follow common sense rules and ride responsibly to get the most out of your ATV and hunting experience.