American Hunting Lease Foundation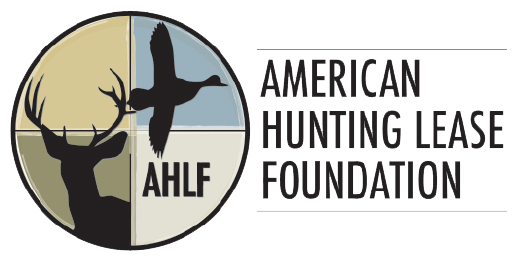 Mission Statement and Core Values
The American Hunting Lease Foundation (AHLF) uses it's reach, influence and expertise in the hunting lease industry, to secure cost-free, safe hunting access for groups and individuals with a demonstrated need for access to quality hunting habitat. Groups working to introduce new hunters, chaperone terminally ill children and/or support our military veterans by facilitating special hunts are given top priority.
The (AHLF) is also proud to support projects and people that share the fundamental values of wildlife conversation, habitat preservation and hunter recruitment (R3) efforts across the United States. Projects that positively impact land leased for hunting and individuals that participate in the hunting lease concept are preferred. However, any project or person that aligns with the AHLF's stated values is welcome and encouraged to apply for support.
The AHLF was created to make hunting access possible for groups that provide charitable hunts to those meeting our criteria for support. Using landowner and hunt club contacts cultivated over a decade, the AHLF solicits past landowners who may prefer to donate hunting access to charities that share the values of responsible stewardship and philanthropy.
The AHLF will complete all paperwork, provide hunting lease insurance as needed and assign value to the donation based on current market prices and past success.

The landowner will know they have made a difference in the life of someone who otherwise would not have the opportunity to enjoy the outdoor lifestyle even for a day or two.


Landowners interested in donating access to their farms, properties or any quality, huntable habitat should contact the AHLF or Sean Ferbrache directly at 866-782-6330.

All donations, both monetary and in-kind will be tax deductible. The AHLF will provide a receipt to the person or company making the donation.
---
The AHLF has established three additional avenues to support the important work and efforts
of outdoorsmen and women all over the country.


Grants

- Whether you are building duck boxes on your hunting lease, filling in an unsafe, abandoned well or taking a group of children to an archery workshop, you may qualify for financial assistance through the AHLF!

Educational Scholarships

– High school seniors and college students pursuing post-graduate degrees in a field related to conservation and/or the advancement of hunting, fishing or the shooting sports are eligible.

Legislative Advocacy

– Anti-hunting groups and ill-meaning politicians are a very real threat to our hunting heritage and our continued pursuit of the lifestyle we enjoy. The AHLF will support efforts to defeat bad legislation or lawmakers that have an agenda that runs contrary to our core values.
---
The American Hunting Lease Foundation relies solely on public and corporate donations as well as
the support of those that attend an AHLF event.


To make a donation to the AHLF, please send a check or money order to:
American Hunting Lease Foundation
10412 Allisonville Rd.Suite 110
Fishers, IN 46038
UPCOMING EVENTS:
None at this time