Hunting Lease Liability Insurance
The American Hunting Lease Association has developed a state of the art Hunting Lease Risk Management Program. We have combined great hunting club insurance with a proven hunting lease agreement to make your hunting experience an enjoyable one. Our program is designed to protect both the landowner and the hunters and can be purchased by either party. The master policy has many benefits over others but here are a few.
$2,000,000 Aggregate
$1,000,000 per occurrence
Member-to-Member Coverage
Guest Liability Coverage
Fire Damage Liability ($100,000)
Medical expenses ($5000) - accident coverage unrelated to Liability
Liability from tree stands and ATV's for hunting is covered
No deductible
Liability certificate mailed to landowners and hunters within 5-7 business days on active policies.
Immediate email confirmation with purchase details
Our hunting lease insurance covers landowners and all members of the hunting party for one low price.

Select a start date of either March 1 or August 1, the cost is the same and coverage begins the following business day on active policies.

1-499 acres $175
500-999 acres $225
1000-1499 acres $275
1500-1999 acres $300
2000+ acres 15 cents per acre
An AHLA membership is required for each policy. No extra certificate fees or other hidden fees. This price also includes the use of our hunting lease agreement. Coverage is subject to approval.
Note: Premiums are 100% earned and there is no refund of premium if the policy is cancelled midterm.
A written lease is required in order for your hunting lease insurance to be in effect. We do not need to see your lease, just make sure you have one on file in case you have a claim in the future. We highly recommend using the AHLA hunting lease agreement that can be filled out after your policy purchase for FREE. The lease agreement is time tested, flexible and sets the standard for the industry. We offer two AHLA Master Policies, the Spring Master Policy and our Fall Master Policy. The only difference is the start date of coverage. The Spring Hunting Club Insurance Policy coverage begins March 1 and ends March 1 the following year, and the Fall Policy begins August 1 ending August 1 the following year. Just choose your preferred start date during your purchase. If your purchase is on or after the policy beginning date, your coverage will begin the next business day after payment is received. Certificates of Insurance will be mailed the week prior to the policy start date for early purchases and within five to seven days of purchase of active policy purchases.
Lands that are subleased or used for any commercial hunting activities are not eligible for coverage in the program.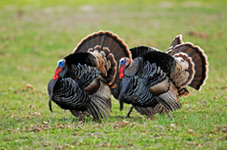 Insurance Carrier: Tokio Marine (owned by Philadelphia Insurance Co.)
Rated A++ by A.M. Best
Limits of Liability:
$1,000,000 Per Occurrence-Bodily Injury and Property Damage
$2,000,000 Aggregate
$1,000,000 Personal and Advertising Liability
$100,000 Damage to Rented Premises
$5,000 Medical Payments
Zero deductible
Click here to view a sample certificate of hunt club insurance liability
You can get a free instant quote or make a purchase. Coverage is subject to approval.